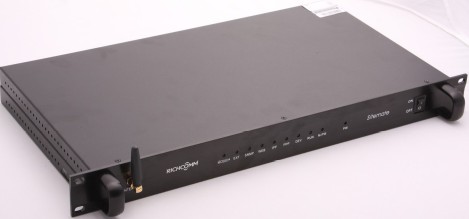 MobileSite host is a uniquely designed and developed for computer room center, which sets UPS monitoring and power environment expanding in one network monitoring host. It adopts popular 19 inches rack design style, with 220V/AC power supply, which is more suitable for design demands of modern computer room. What is more, it supports 16 channels open/shutdown testing, 8 channels 0-5V analog acquisition input and 6 channels delay output control, which can satisfy monitoring demand of small and medium-sized computer room. It has built-in GSM Modem, when there is any fault in the central computer room, administrator will receive SMS alarm information. It is the best choice for building modern unattended computer room. It is also applied for communication station of mobile and telecommunication, or the environment where there is no network.
Functions:
1. 19 inches rack-mounted, able to be installed in the equipment cabinet, so as to make equipment
cabinet clean and tidy;
2. Compatible with multi-brand and multi-type of UPS;
3. Adapt high-performance module of GSM/GPRS;
4. Support double frequency of GSM/GPRS;
5. Accord with the standard of ETSI GSM Phase 2+;
6. Remotely check the status of UPS(UPS disconnection, utility power disconnection, battery power
low, UPS bypass, UPS testing, etc) by SMS;
7. Query running status of UPS by sending order of Q1 and Q2, when UPS is abnormal, the system
will auto send warning SMS according to setting;
8. Monitor switch quantity device such as water leakage, smoke, door contact, power distribution, etc;
9. Monitor analog quantity devices such as voltage, current, temperature, etc;
10. Support sound-light alarm and other relay signal linkage device;
11. Able to expand module of temperature and humidity;
12. 19 inches rack-mounted, able to be installed in the equipment cabinet, so as to make equipment
cabinet clean and tidy;
13. Acquisition port adapts RJ45 and terminal port, user can select according to real demands, this
kind of design can achieve the plug and play for switch quantity acquisition device, installation personnel
need not to do complex operation;
14. This device has RS422 intelligent device expanding port, which adapts standard RJ45 port, it can
achieve the free expansion for intelligent expanding devices such as digital temperature and humidity
module, air conditioning infrared control module, etc;
15. Task scheduler function;
16. Record function for history event and history data, easy for the administrator to analyze;
17. Support warning of Email, SMS and voice dialing;
18. Match with IP Power software to achieve centralized monitoring and unified management;
19. Match with IP Power software to achieve shutdown protection for client-side.