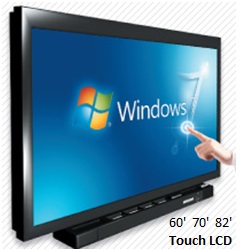 A multimedia display for presentation room, classrooms or meeting rooms effectively saves the system management time of the lecturer and increases the desire for learning of the participants. The LCD/PDP/DLP screen can accept writing by hand or by a tool. The lecturer of speaker can write on top of the presentation on the blackboard while giving a speech.
Touch and write by hand or any tool on PDP or DLP projection.
PC or notebook connection by USB cable
Interactive lecture by writing on the contents displayed on the PDP/DLP Screen.
Smooth letter writing: Anti-Write Noise (for all characters supported by Windows)
Whisper-tip stylus (black, blue, red, green, 256 colors choice, marker pens supported)
Mouse left/right, Drag & Drop, Keyboard function (letter, number), character recognition.
Screen writing matches Computer screen image (video player function)
RGB color (16,777,216 color) 16,000,000 pixel fine touch resolution (4000*4000 dpi)
Narrow-Bezel LCD for video wall (Screen gap < 6.7 mm)
Designed to support the latest thin bezel large format LCD's now coming on the market, Seven Layers SPR allows the integrator to quickly assemble ANY video wall configuration imaginable. Easy to install and very simple to maintain, Seven Layers SPR insures every display in your wall is perfectly aligned the first time you put it up.