TIME ATTENDANCE AND ACCESS CONTROL SYSTEM:
Multi-Media Fingerprint Time Attendance and Access Control
 
•         3.5" TFT Screen•         Multi-media terminal with Camera•         Reads Fingerprint, Card, Keypad•         Store up to 8000 templates, 200,000 records•         Built in Serial and Ethernet and USB Host support•         Embedded Controller
IP Based RFID Standard Access Control System
 
•         Reads Card•         Single door lock control system•         Wiegand In & Out•         Communication via TCP/IP Protocol•         Embedded Controller
IP Based Outdoor Finger Print Access Control
 

•         Built-in Serial and Ethernet Ports

•         Outdoor Fingerprint – Weather proof

•         Reads Fingerprint and Card

•         Tamper-Proofs switch and Alarm Outputs

•        Stores 600 templates, 100 cards and 15000               transactions

•    Real-time 1-touch data export 3rd party hosted applications
Configuration of Time Attendance and Access Control System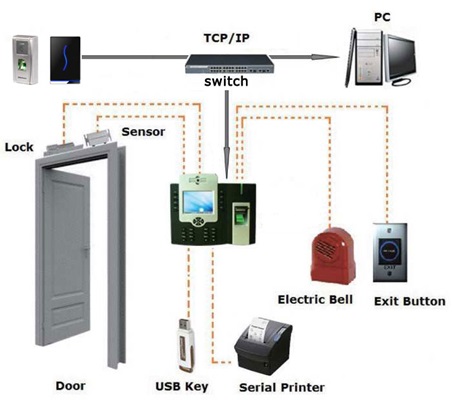 ACTIVE RFID solutions
Logistics and Transportation Solutions
Library Management
Warehouse Management
Transport and Shipping
Distribution Outlets
Asset / Personnel Tracking for Healthcare
Asset control and management
Temperature Monitoring
Building Visitors Tracking Solutions
High Value and Sensitive Asset Tracking
Radio-frequency identification (RFID) is an automatic identification method, relying on storing and remotely retrieving data using devices called RFID tags or transponders. The technology requires some extent of cooperation of an RFID reader and an RFID tag.
An RFID tag is an object that can be applied to or incorporated into a product, animal, or person for the purpose of identification and tracking using radio waves. Some tags can be read from several meters away and beyond the line of sight of the reader.
There are generally two types of RFID tags: active RFID tags, which contain a battery, and passive RFID tags, which have no battery.
Today, RFID is used in enterprise supply chain management to improve the efficiency of inventory tracking and management.
How RFID Works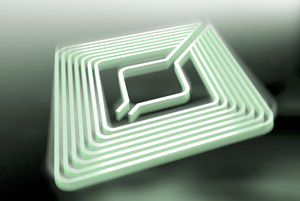 An RFID tag is embedded in a component item. The item tag can then be  read and written to during the manufacturing process in order to gather  and exchange Work-in-Process data. That same tag could then be read or  written to by shipping personnel at the manufacturer's shipping dock to  release the original manufacturer's item from their inventory. Shipping  information could then be written to the item tag by the transportation  carrier as it's transported from the manufacturing plant. That item could  now be on its way to the end user, the next add on manufacturing site, or  distribution center with complete item, source, process, and ultimate destination information included. Upon arrival at any of these locations the item tracking information could be read automatically with a fixed or portable RFID interrogator.
Finally, that same individual item tag could be read and written to at the retail store level, providing the retailer with additional pricing, receipt date, inventory, and theft prevention information.

Logistics and Transportation Solutions
In logistics and transportation operations, processes change rapidly; vehicles and equipment move within and between facilities and inventory levels highly fluctuate. Location, status and condition data of assets (i.e. shipping containers, racks, carriers, vehicles) can boost operational efficiency and drive profitability in logistics environments indoors or outdoors, including yards, parking lots, transportation hubs, warehouses and distribution centers. Solutions involving RFID enable logistics and transportation operations to maintain visibility in any environment throughout the enterprise by combining various sources of location, status and condition data – including Active RFID, Passive RFID, GPS, and advanced sensors – over standard Wi-Fi networks, into a single platform.
Warehouse Management
Real-time visibility is critical for streamlining business processes and operations in logistics warehouses. The RFID solution enables overseeing the location of all trailers and containers as well as yard service vehicles throughout the yard in real-time while automating and increasing efficiency of gate and dock operations. The data can be integrated to any inventory management system in order to ensure optimal scheduling and planning. Customers can efficiently manage trailers and containers in large distributed yards, improve labor productivity, expedite gate entry and reduce costs related to vehicle patrols.
Transport and Shipping
The delivery industry is extremely dependent on location and condition of delivered goods. Truck, trailer and container departure and arrival times at hubs and other destinations can be monitored in real-time. By maintaining accurate and real-time visibility of roll-cages and shipping containers moving in between distributed hubs and locations, the efficiency and speed of delivery services can be significantly improved. Sensitive products can also be monitored throughout the supply chain (i.e. temperature monitoring of pharmaceutical products) to ensure safety and regulatory compliance.
Distribution Outlets
Dynamically changing inventory in large distribution centers can be very challenging for suppliers that are required to meet high customer service levels. A visibility solution from RFID enables distribution centers and warehouses whether indoors or outdoors to constantly monitor inventory levels, capacity, arrival and departure of assets to the site or to specific stations on site. Such information enables significant improvements in efficiency and quality of service. Sensitive products can also be monitored while in storage or transit (i.e. temperature monitoring of food and pharmaceutical products) to ensure product quality and regulatory compliance.
REMOTE VIDEO SURVEILLANCE
Our security solution is completely wireless, mobile and best of all: affordable. Utilizing the latest in video compression, wireless and cellular networks, and mobile technology, our solution offers you the ability to monitor any site from ANYWHERE!
The Solar Surveillance Camera systems from Dynamic Decisions are complete surveillance solutions that include all the necessary components. Secure any site without the need for electric power. These wireless video monitoring packages come complete with camera

Robust and Low-Maintenance
Cameras do not require any lens or positioning motors. Without any moving parts, they are so robust that maintenance is reduced to a minimum. The unique temperature range from -30° to +60°C (-22° to +140°F) is achieved without heating or fan at only 3 watts power consumption. Since no PC hard disk is required for recording, there are no parts that wear out in the entire video system.
The Benefits
High Resolution Video solutions therefore require significantly:
fewer cameras due to the more accurate detail of wide-angle images with mega-pixel technology,
fewer PCs/DVRs, because around 40 cameras can store high-resolution video with sound efficiently on a single PC, or no PC at all when recording on the camera's digital storage (USB, SD card),
Lower network bandwidth; because everything is processed in the camera itself and the high-resolution images therefore do not have to be constantly transferred for analysis