Today's corporations and business enterprises are looking for strategies to converge and integrate different technologies and applications into a single common network .
From the perspective of our customers, VoIP offers a number of advantages such as more efficient use of existing data networks and inexpensive calls & Toll-by-pass. Cost saving can also be achieved due to the utilization of open standards and non-proprietary equipment, leaving room for potential revenue opportunities thanks to the implementation of value-add services, such as e-commerce and unified messaging among others Through its Technology Solutions Team expertise, Seven Layers Information Technology can handle complete VoIP deployments, including provisioning of services and equipment, such as gateways, VoIP enabled routers & Switches as well as providing continuous operational support.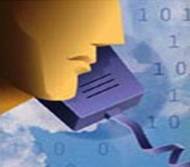 IP Telephony
IP Telephony is not just a new breed of telephony system, it is much more than that.
IP Telephony is about empowerment and openness, where users and administrators alike will enjoy its many benefits, such as flexibility, lower cost of ownership if compared to traditional PBXs, facility to integrate additional features, such as data entry, information delivery, call accounting, among many others.
IP Telephony enables customers to expand the role of the system to accommodate and create applications according to their own needs. 7-Layers Information Technology Solutions has a wealth of experience in the technologies underpinning the deployment of IP Telephony.